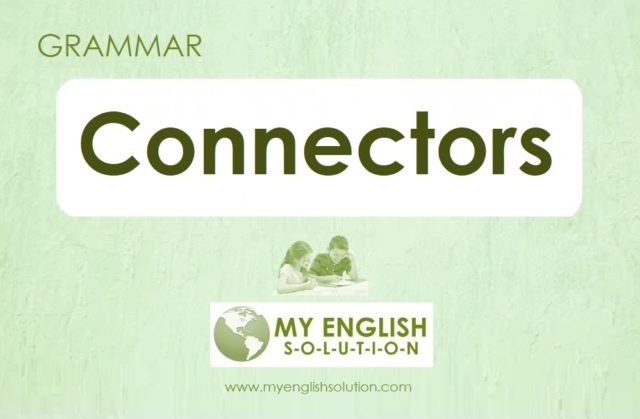 Connectors are the Conjunctive words which connect or coordinate words, phrases, or clauses. Different kinds of connectors join different kinds of grammatical structures. These linking words are systematically used for connecting similar or different elements present in a sentence.
Examples–
I continued studying, meanwhile, he went out playing.
It was a tough competition. Nevertheless, our team reached the Final.
There was no school, consequently there was no education.
She is a genuine designer and, moreover, a good writer. etc.

SEQUENCE CONNECTORS
| | |
| --- | --- |
| After  | Afterwards |
| Also | And  |
| Another | At last |
| At the end  | Before |
| By the time | Eventually |
| Finally  | First |
| First of all  | Firstly  |
| Further       | Furthermore |
| In addition  | In conclusion  |
| In the end | Later |
| Meanwhile | Moreover   |
| Next  | Second  |
| Secondly | Soon  |
| Subsequently | Then  |
| Third | Thirdly  |

CONTRAST CONNECTORS

| | |
| --- | --- |
| Alternatively | Although |
| Apart from | Because of |
| But | By contrast |
| Conversely | Despite |
| Despite this | Even so |
| Even tough | However |
| In contrast to | In spite of |
| Instead | Nevertheless |
| Nonetheless | Notwithstanding |
| On the contrary | On the other hand |
| Otherwise | Though |
| Unlike | Whereas |
| While | Yet |

CAUSE/EFFECT CONNECTORS

| | |
| --- | --- |
| Accordingly | As |
| As a consequence of | Because |
| Because of this | Brings about |
| Causes | Comes from |
| Consequently | Contributes of |
| Due to | Due to the fact that |
| For | For this reason |
| Hence | In order that |
| In order to | Is due to |
| Is the result of | Leads to |
| On account of | Owing to |
| Result in | Similarly |
| Since | So |
| That is why | Thereby |
| Therefore | Thus |

COMPARISON CONNECTORS

| | |
| --- | --- |
| Also | As |
| As … as | As well as |
| As with | Equal |
| Equally | In common |
| In comparison to | In similar manner |
| In similar way | In the same way |
| Just as | Just like |
| Likewise | Resemble |
| Same as | Similar to |
| Similarly | The same as |

OPINION CONNECTORS

| | |
| --- | --- |
| Alternatively | Although |
| Apart from | Because of |
| But | By contrast |
| Conversely | Despite |
| Despite this | Even so |
| Even though | However |
| In contrast to | In spite of |
| Instead | Nevertheless |
| Nonetheless | Notwithstanding |
| On the contrary | On the other hand |
| Otherwise | Though |
| Unlike | Whereas |
| While | Yet |

ADDITION CONNECTORS

| | |
| --- | --- |
| Added to | Additionally |
| Again | Along |
| Along with | Also |
| And | And all |
| And then | As well |
| As well as | Besides |
| Besides that | By the same |
| Equally | Except for |
| Finally | First |
| For example | Further |
| Furthermore | In addition |
| In line manner | Last |
| Likewise | Moreover |
| Not only … but also… | Second |
| Still | Then |
| Too | What's more |

CONCLUSION CONNECTORS

| | |
| --- | --- |
| After all | All in all |
| All things considered | As a result |
| Briefly | By and large |
| By the large | Consequently |
| Evidently | Finally |
| For the most part | Hence |
| In brief | In closing |
| In conclusion | In essence |
| In outline | In short |
| In sum | In summary |
| In the long run | On balance |
| On the whole | Overall |
| So | Then |
| Therefore | Thus |
| To conclude | To sum up |