WHAT IS CONVERSATION?
Conversation is an interactive, instinctive communication between two or more people. It is the spoken exchange of ideas, thoughts, feelings, observations, or opinions between people. It is a type of spoken languages which can be known as informal talk. Conversation is different than discussion, chat or debate.
BETTER CONVERSATION
Conversation is a dialogue not a monologue. Better conversation requires creativity, tolerance, ingenuity and proficiency on language. Ralph Waldo Emerson once said- "All good conversation, manners, and action come from a spontaneity which forgets usages and makes the moment great". Following are the 10 ways to have a better conversation as well as to become a skillful communicator: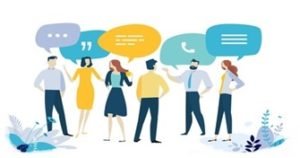 1

Be a good listener.
The art of conversation lies in listening. Being a good listener means concentrating on the person who's speaking, not to interrupt or respond but rather just to hear them out. Good listeners play a more passive and submissive role in the conversation, however they earnestly involved with the other person using body-language and follow-up questions.
2

Do not multitask.
It is true that multitasking is the ability to screw everything up simultaneously. But in conversation you can't follow this pattern. Multitasking causes anxiety and uneasiness. For better communication, you need to focus entirely on who you are communicating with. It results in greater understanding and meaningful conversation. It may even save you quite a bit of time.
3

Use open-ended questions.
Closed-ended questions are those which can be answered by a simple 'yes' or 'no', while open-ended questions are those which require more thinking ability and feasibility. The answers could come in the form of a list, a few sentences or something longer such as a speech. Questions begin with 'how', 'what', 'In what way…', 'What do you think…' etc. test the talent and skill of the person.
4

Be consistent.
. Consistency creates accountability and makes you rather relevant.
5

Maintain eye contact.


It is rightly said that- 'Eyes are a reflection of your inner self'. Eye contact is a kind of body language that is extremely important during conversation. Our body language speaks more than words. Maintaining eye contact will encourage the person to engage in active conversation with you. Looking directly in the eyes of the person help them understand your thoughts and feelings.

6

Be brief.
"Great minds discuss ideas; average minds discuss events; small minds discuss people". Definitely, brief and limited conversation helps to find right solution at the right time. It can aid you to build a better relationship with the people. Focus only on the key points you want to make with your talk. You need to understand what the people want to learn from you.
7

Do not impose things.
Healthy conversations happen when people feel safe and free enough to talk to each other. The conversation will never be meaningful when you start to impose your opinions, thoughts and ideas on others. All have equal rights to share their thoughts in a democratic way. Never try to become the dominant member of any kind of conversation, by desperately imposing your views on others.
8

Encourage each other.
Encouragement is the healthiest motivator. To encourage others to talk is the sign of better conversation. Encouragement and respect can help boost self-confidence. This will empower others to feel competent and knowledgeable. Share your personal experiences and ideas to enable others to speak. The right sense of humor keeps conversation enjoyable and inspiring.
9

Speak politely.


Politeness means to show regards for others in manners, speech, and behavior.

It is the behaviour that is respectful and considerate of other people. If you show other people that you are listening to them politely, they will be more willing to listen to you and accept your opinion. Use polite words and expressions skillfully. Avoid negative words and 'finger pointing'.
.

10

Say the truth.
The best thing about speaking the truth is you don't have to remember what you said. Truthfulness and honesty are two important aspects of transparent conversation. Transparent conversation helps to create long term, durable, and creative relationships. You do not need to hide anything during conversation. Avoid criticizing others. Be realistic.